A well-stocked emergency kit can be lifesaving when winter storms roll in.
Winter weather can quickly turn treacherous. The current casualties related to the winter storm in Western New York — one of the most severe winter storms in the region's recorded history, as Fox News Digital has reported — indicate just how treacherous.
At least 35 deaths are now attributed to the storm, as of reporting on Tuesday morning, officials said.
WHAT TO DO IF YOU'RE TRAPPED IN YOUR CAR DURING A SNOWSTORM
A complete winter weather emergency kit, or "go bag," should contain a combination of supplies needed to survive, along with tools that can come in handy in emergency situations.
Go bags are useful in situations when a quick evacuation is required.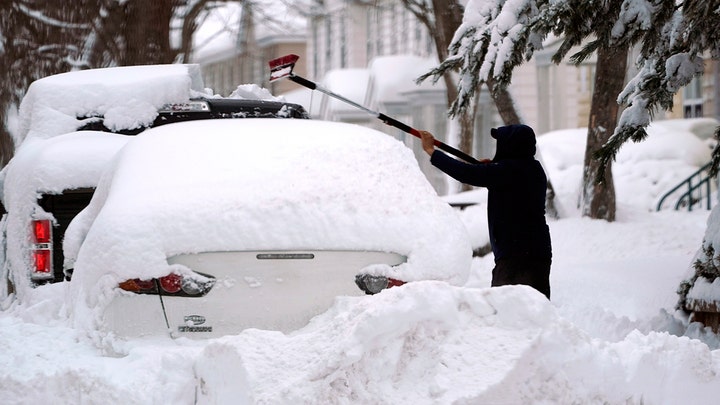 Yet they can also be incredibly helpful for people who find themselves suddenly stuck, in a car or at home, amid a blizzard or nor'easter.
Emergency supply of food and water is critical
A good emergency supply kit has three days' worth of water and food per person, according to Ready.gov.
This means roughly 2,000 calories of food and a gallon of water for each person for each day.
It may not be practical to carry around gallons of water in a go bag.
So consider LifeStraw or a similar product with a small water filter that filters out viruses, bacteria and parasites from dirty water, as the product's website says it does.
LifeStraw also sells water bottles with an integrated filter, as Fox News Digital previously noted — so in a snow emergency, one can fill up a water bottle with melted snow and drink it without fear.
The go bag should also include items such as a battery-powered or hand-crank radio, flashlight, first aid kit, extra batteries and backup cell phone chargers, according to the Federal Emergency Management Agency website (FEMA.gov).
These kits should also include items like can openers, maps, basic tools, garbage bags and duct tape.
Additionally, consider purchasing a multi-use tool such as a Swiss army knife.
Medications to pack in a go bag.
It is also important to have a seven-day supply of necessary medications and copies of important personal documents in your bad weather go bag, according to the American Red Cross.
While a person who is riding out a storm at home likely has full access to a medicine cabinet, this is not the case when someone in a car gets stuck during winter weather.
In addition to any necessary medications, it's a good idea to keep a small supply of over-the-counter medications such as Tylenol or Advil in a car's emergency kit.
Most disaster preparedness websites recommend having three days' worth of all emergency supplies.
WINTER STORM BRINGS BELOW-FREEZING TEMPERATURES TO US — THESE ARE THE RECORDS THEY COULD BREAK
It is also a good idea to have a first-aid kit as well as feminine hygiene products in a car's go bag, as Fox News Digital has reported.
These items can come in handy at any time of year, of course.